I started researching legitimate survey sites a long time ago. There are so many paid surveys online now, but a few of these trusted companies have been around for longer than a decade. Find out how you can make money taking surveys with these companies.
Paid surveys aren't for everyone. Undertaking the task of finding legitimate survey sites, signing up and answering questions for money doesn't float everyone's boat. But those of you who appreciate an extra chunk of money at the end of every month, and know just how to spend your free time wisely, might be interested in having a little fun in exchange for a little cash.
I've been at this a long time. I've recently expanded my knowledge of paid surveys and legitimate survey sites vs scams into the whole arena of making money online. I've been working online for almost 2 decades, trying a little bit of everything to figure out what works best for me. I still play around with a few survey companies just to add to that fun money every month bottom line. There are a zillion ways to make money online, and every way offers a little bit of a different format. Paid surveys can never be considered 'work' because taking them is kind of fun! And the pay won't replace your day job. But if you have some time in the evenings where you're already at your computer clicking around for something to do, why not give these 3 old-timer legitimate survey sites a shot?
Affiliate disclaimer: The links on this page are affiliate links, which means when you sign up with these legitimate survey sites, I get paid a bit, too, at no cost to you. That's another great way to make money with survey companies. It's a pretty sweet deal. Thanks for checking it out. And if you have any comments about your experience taking surveys or with these particular market research companies, I'd love read them below!
Survey Savvy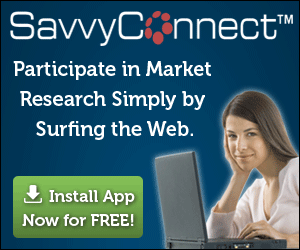 Participate in market research simply by surfing the web with SavvyConnect. Get paid for your opinions. Must keep installed for a minimum of 30 days to be rewarded. This program is FREE! Click here to get started.
Survey Savvy is a company that's been online since 1999. Since then, they have evolved with the technology and they now have a great program for earning money with surveys! It's called SavvyConnect. 
In addition to the paid surveys you're accustomed to receiving, this legitimate survey site now offers an app and/or web browser extension that collects data based on your browsing habits. WHHHAAAT? (you might be thinking). You probably know by now that every day companies are collecting and using your data to make money. SavvyConnect actually tells you about it, asks your permission and then offers an incentive for doing so. In fact, you can earn up to $60 US dollars just for installing the software! Check it out now!
Unlike other sites, they don't use the data collected to sell you anything or show you ads. They use it for research and analysis and also provide you with more targeted survey opportunities. You can also read their privacy policy online to find out how they honor browser surfing and stop collecting data when you are using certain private websites with sensitive data.
If you're not interested in installing SavvyConnect but still want to participate in the surveys offered via email, that's ok, too. You can still SIGN UP HERE.
Ipsos I-Say
The Ipsos I-Say survey panel is another market research company that's been online for ages. This is one of the legitimate survey sites that pays you in points and then offers shopping opportunities with those points. They boast unlimited products in the Rewards Shop making it easy to find and work toward just the right prize for you. And of course, if shopping and prizes don't work for you, Paypal cash and Visa prepaid cards, as well as Amazon gift cards are on the list.
Ipsos also has a loyalty program in place. The more surveys you attempt and complete, the more loyalty points you'll earn. You can also participate in and create your own polls, as well as enter contests and sweepstakes to get even more points and prizes.
MySurvey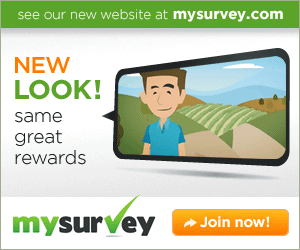 The MySurvey website started in 2001, but this company is part of a broader market research organization that's been collecting consumer opinions since 1946. Over the years, the data collected by MySurvey has inspired innovations like airbags and cash reward credit cards. Results from this legitimate survey site are often quoted in popular publications such as The Wall Street Journal
and USA Today
.
Open to residents of the US only (SEE BELOW for other countries), this consumer panel rewarded members over 32 million dollars in 2014. That tells you the amount of available surveys with this panel isn't limited. You can also opt in for the MySurvey Connect program (by invitation only) which pays you monthly points just for running their application on your PC or Mac. The more surveys you take with this panel, the more chance you'll have to earn points and be invited to their exclusive data monitoring program.
MySurvey offers gift card rewards as well as Paypal Cash. Turn your points into money or goods. There's a great selection to choose from and it's easy to cash out and choose what you want.
Mindfield Internet Panels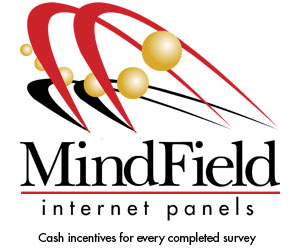 Mindfield Internet Panels was one of the very first legitimate surveys sites I joined. To this day they are still sending multiple survey invitations per day and when I've got a few extra minutes, I click on one and see if I qualify. Way back when, Mindfield only offered payment via check, but they've since expanded to Paypal, Amazon, Walmart and Sam's online cash out options.
American Consumer Opinion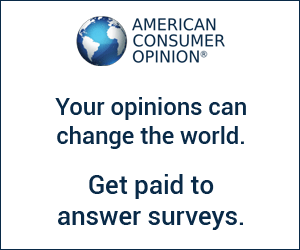 American Consumer Opinion is a market research company that's been on the block since 1986 when they started as a small mail survey panel. Ten years later, they took the company online and since then have grown to over 8 million members in several different countries. Surveys from ACOP range from opinions about shopping and products to politics and the economy. You might be asked to evaluate new advertising or talk about how you use gift cards. Here are some bullet points about joining this legitimate survey site:
Comments
comments